Posts Tagged 'Arthur@AmeriNZ'
From The Weekly Sift, November 21, 2016:
Like most people I know, I've been suffering occasional attacks of rage or depression. But it's also oddly energizing sometimes. If you ever had fantasies of being a hero, well, gear up; the villains are taking the field. It feels like we're in a trilogy, somewhere around the end of Book Two. Ancient evils have jumped out of history books and grainy newsreels, and are appearing on live TV. Their words and ideas are coming out of the mouths of our neighbors.
Who thought we'd have to deal with this in our lifetimes?
For some while now, everything that you can think to do about the situation is going to seem hopelessly inadequate. But it's important that you do it anyway. That's how it is at the end of Book Two. Read the rest of this entry »
Christ's Burial Place Exposed for First Time in Centuries
John Green explains the tax plans of both Hillary Clinton and Donald Trump and the differences between Donald Trump's plans for healthcare in the United States and Hillary Clinton's proposals
Political ads: Jason Kander for US Senate from Missouri and Travis County Commissioner Gerald Daugherty
SNL: 'Black Jeopardy' with Tom Hanks
Read the rest of this entry »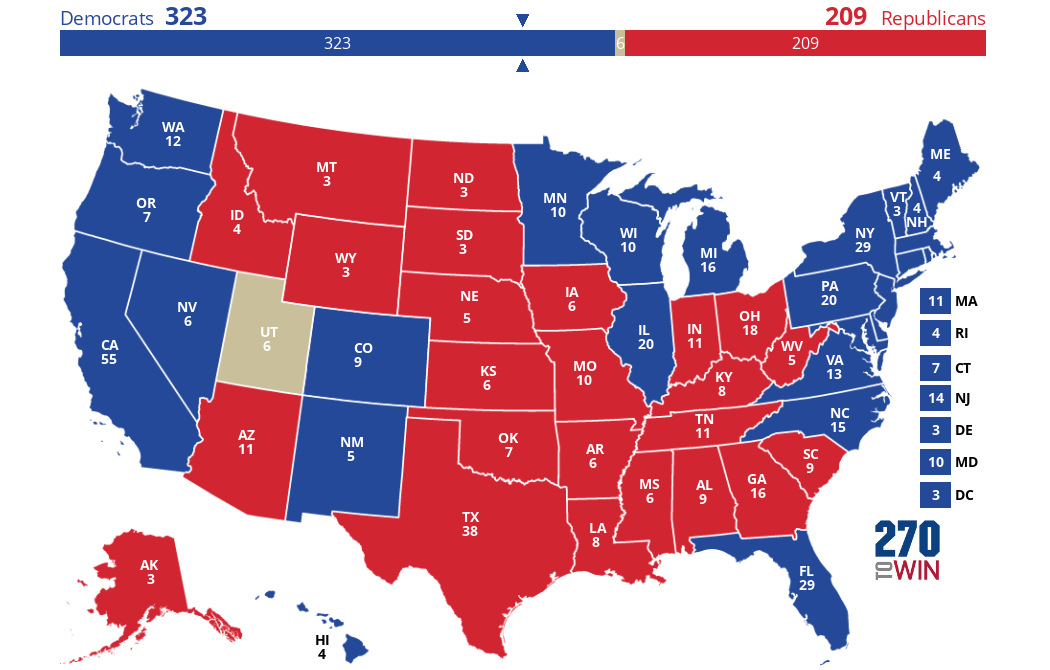 Click the map to create your own at
270toWin.com
Julie, who I known for a number of years, asked:
Do you think the US will ever get rid of the electoral college and go to something different? Why is it still done this way?
The second question is easier than the first, so let's start with that. The original reason for the EC, like so much of the Constitution, was compromise. As this article shows, "One idea was to have the Congress choose the president." But that was rejected, for good reason. Even then, they didn't trust Congress to do the right thing. Also, many felt that "arrangement would upset the balance of power between the legislative and executive branches of the federal government."
Another thought was "to have the State legislatures select the president." This idea, too, was wisely rejected out of fear Read the rest of this entry »
Explaining Progressive Christianity (Otherwise Known as "Christianity")
He was tortured by the U.S. and held without charge. Suleiman Abdullah Salim is still haunted by the prison he calls "The Darkness"
Misogyny defied: Michelle Obama's New Hampshire speech (start at 25:00) and Dear Men from Amy Biancolli
Time to Own the Legacies of Others
John Oliver: Police Accountability
Racist Social Media Users Have A New Code To Avoid Censorship
Yes, Preschool Teachers Really Do Treat Black And White Children Totally Differently
Confessions of a former neo-Confederate – Who believes slavery wasn't really that bad? I did
Read the rest of this entry »