Posts Tagged 'Constitution'
A good friend of mine asked me to try to find an interview with Antonin Scalia. The late Supreme Court justice talked about a "dead Constitution," arguing that people ONLY have rights that are spelled out in the document or by the formal amendment process.
My friend recalls him saying that women, or blacks, had no inherent rights until they could convince sufficient White Men to give them rights thru the amendment process.
I discovered that he laid out his "originalist" views many times. In 2005, he delivered one of his two most essential speeches, Constitutional Interpretation the Old Fashioned Way:
Consider the 19th Amendment, which is the amendment that gave women the vote. It was adopted by the American people in 1920. Why did we adopt a constitutional amendment for that purpose? The Equal Protection Clause existed in 1920; it was adopted right after the Civil War. And you know that if the issue of the franchise for women came up today, we would not have to have a constitutional amendment.

Someone would come to the Supreme Court and say, "Your Honors, in a democracy, what could be a greater denial of equal protection than denial of the franchise?" And the Court would say, "Yes! Even though it never meant it before, the Equal Protection Clause means that women have to have the vote." But that's not how the American people thought in 1920.
In 2008, Scalia vigorously defended a 'Dead' Constitution. As his 2016 New York Times obit noted:
"By choosing the appeals court judge and former law professor, Reagan believed that his nominee would become a… man who would unite a coalition of like-minded justices… But from the beginning, Justice Scalia defied all expectations. He eagerly participated in questioning from the bench during oral arguments when new justices traditionally held back. He became an outspoken, witty and acerbic writer and speaker, who was deified or vilified by people on opposite sides of the political divide."
This is the first Monday of October, the traditional opening of the Supreme Court's term. Scalia has been replaced by Obama nominee Merrick Garland Trump appointee Neil M. Gorsuch.
Chris has thought about Julian Assange a lot more than I have:
What drove Julian Assange to start WikiLeaks? Do you think he's white, gray or black hat? Has your opinion of Assange or Snowden changed at all due to the leaks and Russian involvement?
I'm going to assume Assange started Wikileaks for the reason he said he started it. From a recent Bloomberg story I can't locate presently:
"A decade ago, when Assange founded WikiLeaks, it was a very different organization. As Raffi Khatchadourian reported in a 2010 New Yorker profile, Assange told potential collaborators in 2006, 'Our primary targets are those highly oppressive regimes in China, Russia and Central Eurasia, but we also expect to be of assistance to those in the West who wish to reveal illegal or immoral behavior in their own governments and corporations.' Read the rest of this entry »
this one. It gives the reader a better sense of the trial and error that is the American experience.If you're ever looking at the Constitution of the United States, make sure you look at one that is footnoted, such as
For instance, Article I, Section 2, paragraph 3: "Representatives and direct Taxes shall be apportioned among the several States which may be included within this Union, according to their respective Numbers, which shall be determined by adding to the whole Number of free Persons, including those bound to Service for a Term of Years, and excluding Indians not taxed, three fifths of all other Persons."
"All others" were slaves, who were three-fifths of a person. Read the rest of this entry »
From The Weekly Sift, November 21, 2016:
Like most people I know, I've been suffering occasional attacks of rage or depression. But it's also oddly energizing sometimes. If you ever had fantasies of being a hero, well, gear up; the villains are taking the field. It feels like we're in a trilogy, somewhere around the end of Book Two. Ancient evils have jumped out of history books and grainy newsreels, and are appearing on live TV. Their words and ideas are coming out of the mouths of our neighbors.
Who thought we'd have to deal with this in our lifetimes?
For some while now, everything that you can think to do about the situation is going to seem hopelessly inadequate. But it's important that you do it anyway. That's how it is at the end of Book Two. Read the rest of this entry »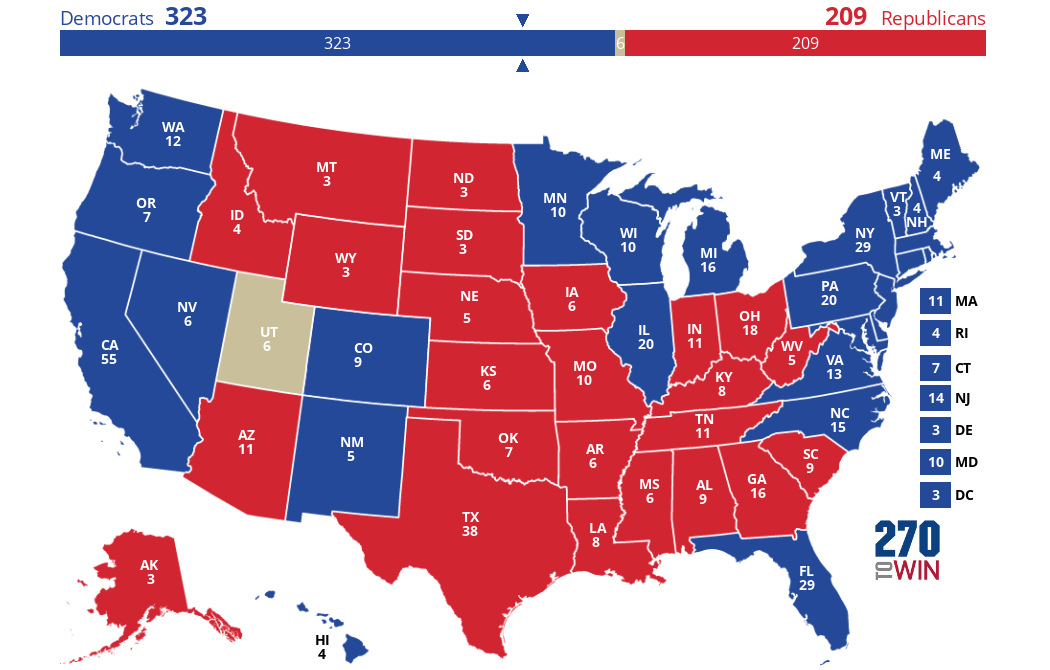 Click the map to create your own at
270toWin.com
Julie, who I known for a number of years, asked:
Do you think the US will ever get rid of the electoral college and go to something different? Why is it still done this way?
The second question is easier than the first, so let's start with that. The original reason for the EC, like so much of the Constitution, was compromise. As this article shows, "One idea was to have the Congress choose the president." But that was rejected, for good reason. Even then, they didn't trust Congress to do the right thing. Also, many felt that "arrangement would upset the balance of power between the legislative and executive branches of the federal government."
Another thought was "to have the State legislatures select the president." This idea, too, was wisely rejected out of fear Read the rest of this entry »