Plastic pollution in Antarctica 5 times worse than expected
Are You The Husband Or The Wife?
"The good advice my mom gave me that I still don't like" published in The Lily by Margaret Sullivan
Rachel Maddow: The Rolling Stone Interview
Millennials are the most likely generation of Americans to use public libraries
Political Violence is Our Issue Too
Obama's secret struggle to punish Russia for Putin's election assault
Russian official linked to South Florida biker club spent millions on Trump condos
John Oliver blasts 'human megaphone' for the anti-vaccine movement
Power Causes Brain Damage Over Time, leaders lose mental capacities—most notably for reading other people—that were essential to their rise
The Daily Show presents: THE DONALD J. TRUMP PRESIDENTIAL TWITTER LIBRARY
Nearly every outright lie he has told publicly since taking the oath of office
The Racist History of America's Chinese Restaurant Boom
vlogbrothers: Cheyenne, Wyoming
Total Solar Eclipse 2017: When, Where and How to See It (Safely)
Comedian Bill Dana, Who Played the Character Jose Jimenez, Dies at 92. He penned one of the funniest 'All in the Family' episodes. Plus the TV Academy has put together a very nice page about Bill Dana
Stephen Furst, who I watched on St. Elsewhere, died at the age of 63. Film director Kevin Smith wrote: "As an awkward round kid, Flounder was the Delta I most identified with in #AnimalHouse, my fave comedy."
Speaking of Smith, he and TV writer Ken Levine do a podcast crossover, first on Smith's here, then Levine's here and here
What Play Finally Brought Tim and Tyne Daly Together Onstage?
Ace magician Misty Lee creates her new show
Leptospirosis Death Warning Hoax – Rat Urine on Soda Can Top
KFC to launch fried chicken sandwich into space
The redesigned Names.org offers origins, statistics and popularity rankings for people names. Users can search and compare the most popular names, find trending names and review various list of names by origin, region decade and more
Stop Sending Me Chain Letters Because They Can Be Dangerous! Also, VERY annoying
Arthur mentions unmentionables
Now I Know: The People Who Can't Take Socks For Granted and China's Extremely Personal Loans and Why Parisian Bakers Can't Always Go On Vacation and The Hamburger on Display in a Canadian Legislature
How do they make cake sprinkles?
MUSIC
The Impressions – Gypsy Woman (1961)
Highway Tune – Greta Van Fleet
With A Little Help From My Friends – The Gibson Brothers Bluegrass
Coverville 1175: 75th Birthday Celebrations for Paul McCartney and Brian Wilson
Pomp and Circumstance March No. 1 – Elgar
Musicians Look Back on the Albums They Don't Remember Recording
You Can't Do That! Making Of A HARD DAY'S NIGHT (1995)
Steve Earle: 'My wife left me for a younger, skinnier, less talented singer'
There was a Vanity Fair article about Mitt Romney back in February 2012. Michael Kranish and Scott Helman's piece was "an adaptation from their new book, The Real Romney, to find that the contradictions, question marks, and ambivalence go deeper than his politics." It couldn't have helped that Willard Mitt Romney's real first name is the same as a movie rat.
The real trouble with the 2012 Republican Presidential campaign is that most of the pundits assumed the same thing would happen in 2016. Mitt Romney was losing to, at different points, Michele Bachmann, Herman "9-9-9" Cain, and Newt Gingrich, among others, before the party let one of grownups become the nominee. The supposition was that the same thing would happen again in 2016, that the bellicose businessman might be the flavor of the month, but surely fade, leaving someone such as Jeb Bush or John Kasich with the nomination.
Surely, Mitt Romney wasn't as bad as some of his GOP counterparts, faint praise, I suppose. He did enact a predecessor to the Affordable Care Act when he was governor of Massachusetts. Yet he was perceived as the out of touch millionaire businessman, largely because of the 47% quote. Yet his successor as the Republican nominee, whom Romney rightly criticized as a phony, had a broader appeal as "genuine."
It's peculiar, politics in this century. When I was growing up in the 1960s, there were plenty of Republicans that fair-minded citizens could consider. Both of the US Senators from New York, Jacob Javits and Ken Keating, were Republicans, as was governor Nelson Rockefeller. William Scranton was governor of Pennsylvania, and George Romney, father of Mitt, was governor of Michigan.
There was a time in my voting lifetime when the vast majority of Republicans were people I would at least consider casting a ballot for. And I do know that if Mitt Romney had won in 2012, I would not be having the sleepless nights I've had since November 8, 2016.
I WAS disappointed when Romney suggested Betsy DeVos is a "smart choice for education secretary." Still, I hope he finds ways to challenge this presidency; don't know how much he'd be heard, but I'd love to see him use whatever clout he may still have.
First BLOTUS Press Conference, Annotated
FLATUS Dossier Spotlights Russian History of 'Kompromat' – Diplomats, politicians and bureaucrats have been embarrassed by leaks of compromising material
The body language of FLATUS, and the 20 best nicknames; are you sorry yet?
FLATUS plan to keep his business is national embarrassment
Gun silencers are hard to buy. Donald Trump Jr. and silencer makers want to change that
Read the rest of this entry »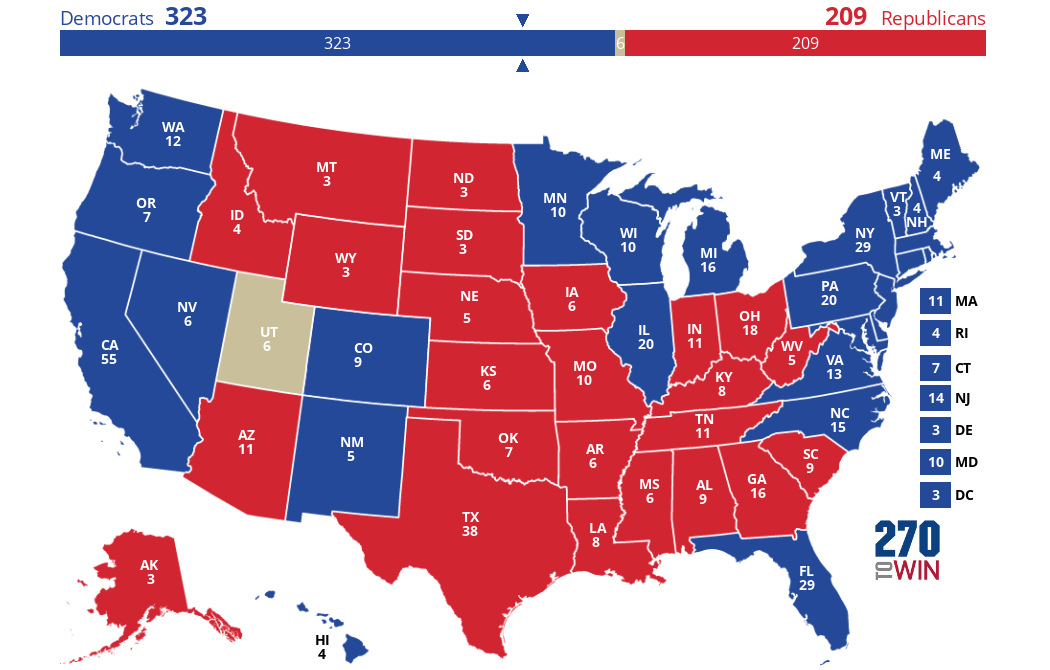 Click the map to create your own at
270toWin.com
Julie, who I known for a number of years, asked:
Do you think the US will ever get rid of the electoral college and go to something different? Why is it still done this way?
The second question is easier than the first, so let's start with that. The original reason for the EC, like so much of the Constitution, was compromise. As this article shows, "One idea was to have the Congress choose the president." But that was rejected, for good reason. Even then, they didn't trust Congress to do the right thing. Also, many felt that "arrangement would upset the balance of power between the legislative and executive branches of the federal government."
Another thought was "to have the State legislatures select the president." This idea, too, was wisely rejected out of fear Read the rest of this entry »
When I linked to a couple articles about obvious signs of bigotry, my friend Chris wrote: "Holy 1952, Batman! What's up with all the crazy racism stories? Are they more prevalent or are they being reported more?"
Well, yes. Both, I would assert.
At the same time, I've come up with a theory. There was a period that bigotry, at least in the public forum, was considered impolite, inappropriate, untoward. What changed is that people have been able to more easily find like-minded folks online. In other words, bigotry as pack mentality.
So, if Malia Obama is going to Harvard Read the rest of this entry »