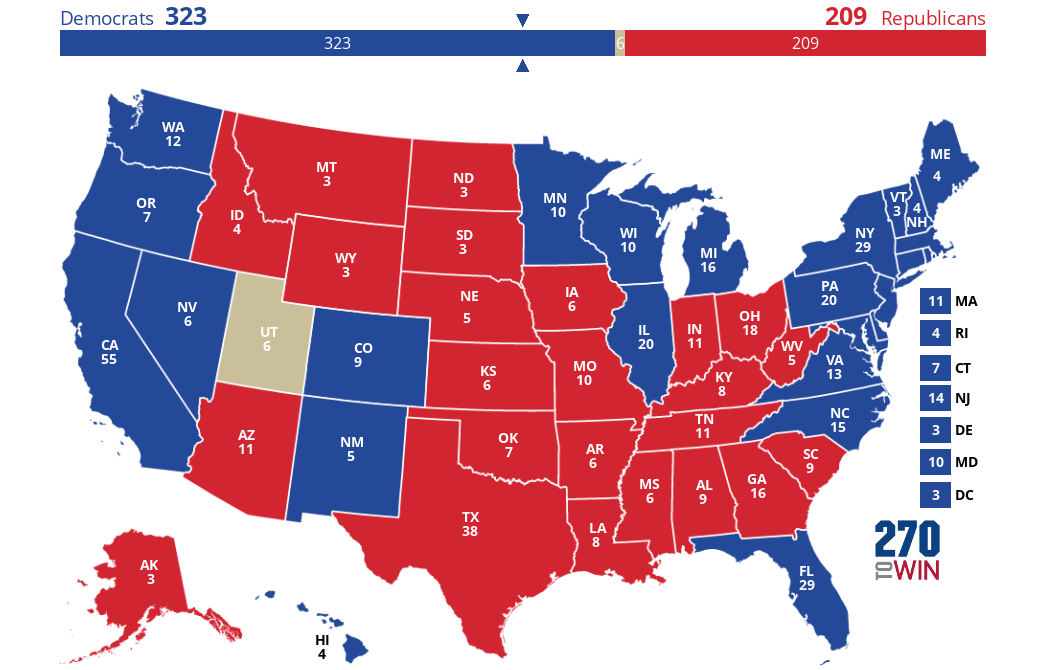 Click the map to create your own at
270toWin.com
Julie, who I known for a number of years, asked:
Do you think the US will ever get rid of the electoral college and go to something different? Why is it still done this way?
The second question is easier than the first, so let's start with that. The original reason for the EC, like so much of the Constitution, was compromise. As this article shows, "One idea was to have the Congress choose the president." But that was rejected, for good reason. Even then, they didn't trust Congress to do the right thing. Also, many felt that "arrangement would upset the balance of power between the legislative and executive branches of the federal government."
Another thought was "to have the State legislatures select the president." This idea, too, was wisely rejected out of fear Read the rest of this entry »
When I linked to a couple articles about obvious signs of bigotry, my friend Chris wrote: "Holy 1952, Batman! What's up with all the crazy racism stories? Are they more prevalent or are they being reported more?"
Well, yes. Both, I would assert.
At the same time, I've come up with a theory. There was a period that bigotry, at least in the public forum, was considered impolite, inappropriate, untoward. What changed is that people have been able to more easily find like-minded folks online. In other words, bigotry as pack mentality.
So, if Malia Obama is going to Harvard Read the rest of this entry »
Actress Susan Sarandon has said "some people feel that Donald Trump will bring the revolution immediately, if he gets in. Then things will really, you know, explode." She made similar comments on The Nightly Show with Larry Wilmore.
Then last week, on Late Night with Stephen Colbert, "Sarandon took her argument a step further, all but encouraging [Bernie] Sanders supporters to sit out in November should Clinton become the Democratic nominee."
I know other people willing to vote for DJT rather than HRC, because Trump will either make things better or so much worse Read the rest of this entry »
A grumpy person's guide to the Presidential primary in New York:
1. If you're not enrolled in a political party (Democratic or Republican), you can't vote, because they are closed primaries. New York has, arguably, the most restrictive primary voting regulations in the country. New voters had to enroll in a party by March 25, but previously registered folks would have had to have switched their party affiliation Read the rest of this entry »
A couple days ago, Doug Muder at the Weekly Sift said he was undecided who he'd vote for in the New Hampshire Democratic presidential primary next week, Hillary Clinton or Bernie Sanders. He provided a fair assessment of both candidates' strengths and weaknesses.
What I have tired of in this campaign has been the major liberal pundits' case against Bernie Sanders Read the rest of this entry »